Declaración del ALAC
ccNSO FoI WG's Interim Report on "Revocation"

Estado
Phase 1

. Elaboración primer borrador

Finalizó: 8 nov 2013

Phase 2

. Apertura para recepción de comentarios

Finalizó: 8 nov 2013

Phase 3

. Finalizar primer borrador

Finalizó: 12 dic 2013

Phase 4

. Votación del ALAC

Finalizó: 20 dic 2013

Phase 5

. Presentación

Presentado: 20 dic 2013
Presentación de una declaración
Plazo de presentación: 20 dic 2013 23:59 UTC
Antecedentes
The ccNSO Framework of Interpretation Working Group (FoI WG) seeks public comment on its initial interpretations of current policy and guidelines related to "Revocation", which is defined as redelgations undertaken without the consent of the ccTLD manager. "Revocation" refers to the process by which the IANA Operator rescinds responsibility for management of a ccTLD from a manager.
Ver comentarios públicos en icann.org
Declaración del ALAC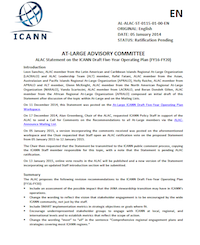 Actividad