ALAC Statement
ccNSO FoI WG's Interim Report on "Revocation"

Status
Phase 1

. Develop First Draft

Ended: 8 Nov 2013

Phase 2

. Open for Comment

Ended: 8 Nov 2013

Phase 3

. Finalize Final Draft

Ended: 12 Dec 2013

Phase 4

. ALAC Vote

Ended: 20 Dec 2013

Phase 5

. Submission

Submitted: 20 Dec 2013
Submitted a Statement
Submission due: 20 Dec 2013 23:59 UTC
Background
The ccNSO Framework of Interpretation Working Group (FoI WG) seeks public comment on its initial interpretations of current policy and guidelines related to "Revocation", which is defined as redelgations undertaken without the consent of the ccTLD manager. "Revocation" refers to the process by which the IANA Operator rescinds responsibility for management of a ccTLD from a manager.
See public comment in icann.org
ALAC Statement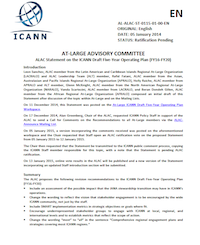 Activity