Fadi Chehadé, President and CEO of ICANN
Fadi Chehadé's career has been defined by building consensus and promoting collaborative technologies and practices. He has more than 25 years of experience in building and leading progressive Internet enterprises, leveraging relationships with senior executives and government officials across Asia, Europe, the Middle East and the United States.
Chehadé, age 50, is a citizen of Egypt, Lebanon, and the United States. He was born in Beirut, Lebanon, to Egyptian parents and left the then war-torn country in 1980 at the age of 18. He speaks fluent Arabic, English, French, and Italian.
Most recently he served as Chief Executive Officer of Vocado LLC, a U.S. firm that is a provider of cloud-based software for the administration of educational institutions.
Prior to Vocado, Chehadé was CEO of CoreObjects Software, Inc., a leader in new product software development services for both large and growing companies. He oversaw the expansion of the company to include more than 400 engineers and its successful acquisition by Symphony Services.
Prior to his role at CoreObjects, Chehadé served as the General Manager of IBM's Global Technology Services in the Middle East and North Africa. Based in Dubai, he led a team across an emerging region experiencing high growth. He also built and managed a new global business for IBM, providing managed services to large clients in telecommunications, aerospace and retail to improve the accuracy, depth and timeliness of business information visibility across demand and supply chains.
Chehadé founded and has led three companies since 1987:
Viacore, launched in 1999, was the world's leading B2B process integration hub offering a complete solution of specialized software and services for global 500 companies. In 2006 he led Vicaore's successful acquisition by IBM.
RosettaNet, a non-profit multi-stakeholder company founded in 1997. Chehadé rallied all the leading ICT companies in the world including IBM, HP, Microsoft, SAP, Nokia and Oracle to collaborate on B2B standards. RosettaNet became the high-technology industry's leading eBusiness standards consortium. RosettaNet adopted a multi-stakeholder approach to define and standardize a complete inter-company process language, enabling the ICT sector to use the Internet for real-time process synchronization between thousands of trading partners.
Nett Information Products, launched in 1987 to create and develop an Internet-based content management and sharing solution, successfully weaving hundreds of ICT suppliers and thousands of their resellers into a powerful collaborative business web of applications and content. Ingram Micro the world's largest ICT distributor acquired Nett, where Chehadé became vice president of its Customer Information Services Group.
Chehadé is a graduate of Stanford University, where he earned a master's degree in Engineering Management. He earlier earned a bachelor's degree in computer science from Polytechnic University in New York, where he graduated Summa Cum Laude.
Fadi Chehadé is also the founder of Nilorado, a youth organization raising funds to support schools for handicapped children in Upper Egypt, also delivering bicycles to boys and girls from needy families in that region who otherwise cannot reach their schools.
Chehadé lives in Los Angeles with his wife of 25 years. They are the parents of two adult sons.
Steve Crocker, Chairman of the Board of ICANN
Dr. Crocker is CEO and co-founder of Shinkuro, Inc., a start-up company focused on dynamic sharing of information across the Internet and on the deployment of improved security protocols on the Internet.
Dr. Crocker has been involved in the Internet since its inception. In the late 1960s and early 1970s, while he was a graduate student at UCLA, he was part of the team that developed the protocols for the Arpanet and laid the foundation for today's Internet. He organized the Network Working Group, which was the forerunner of the modern Internet Engineering Task Force and initiated the Request for Comment (RFC) series of notes through which protocol designs are documented and shared. For this work, Dr. Crocker was awarded the 2002 IEEE Internet Award. Dr. Crocker also holds an honorary doctorate in mathematics from the University of San Martin de Porres in Lima, Perú.
Dr. Crocker's experience includes research management at DARPA, USC/ISI and The Aerospace Corporation, vice president of Trusted Information Systems, and co-founder of CyberCash, Inc. and Longitude Systems, Inc. His prior public service includes serving as the first area director for security in the the Internet Engineering Task Force (IETF), the Internet Architecture Board (IAB), the IETF Administrative Support Activity Oversight Committee (IAOC), service on the Board of the Internet Society and the Board of The Studio Theatre in Washington, DC.
Dr. Crocker earned his B.A. in mathematics and Ph.D. in computer science at UCLA, and he studied artificial intelligence at MIT.
Steve Crocker was selected by the 2008 Nominating Committee to serve as a Board Member. He had been Chair of ICANN's Security and Stability Advisory Committee (SSAC) from its inception in 2002 until December 2010, and he served as SSAC's non-voting Liaison to the ICANN Board until being selected by the Nominating Committee. His first term ran from the end of the 2008 annual general meeting through the conclusion of the 2011 annual general meeting. He was selected by the Nominating Committee to serve a second term, starting in October 2011 and running through the Annual General meeting in 2014.
Steve served as Vice-Chair from December 2010 until June 2011. At the organizational meeting following the regular ICANN Board meeting on June 24, 2011, Steve was elected Chair of the ICANN Board. He was re-elected Chairman of the Board at the organizational meeting held in Dakar on 28 October 2011.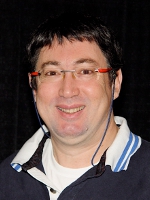 Sebastien Bachollet, ICANN Board Member
Sébastien Bachollet began his career in 1985 with Air Inter (the French domestic airline), then moved to SNCF (French National Railways) where he led innovative technological and organizational projects focused on information systems. With this experience, in the early 2000s he relaunched and promoted the development of CIO (Chief Information Officer) networks at the national level within CIGREF (Club Informatique des Grandes Entreprises Françaises) and at the European level with the creation of EuroCio. Within this framework, he was responsible for strategic development and networking. As deputy general manager of CIGREF, he represented CIGREF and business users in Internet governance at all levels in France, Europe and worldwide.
CIGREF has been a member of ICANN's GNSO Business Constituency since its inception.
Since his work with SNCF, Sébastien has been deeply involved in the Internet world. He launched the www.sncf.fr web site, the largest e-business web site in France today.
Sébastien worked actively to set up and hold the European Global Event on Domain Names and Address Systems, now known as EGENI Europe, held in Paris annually from 2002 to 2008 with more than 250 participants each year. He launched EGENI Africa in 2006 with ISOC Morocco.
Since 2001, Sébastien has been a member of the Internet Society French Chapter (www.isoc.fr), has served on its board since 2003 and was declared the Honorary President in 2009. He is an honorary member of other Internet Society chapters as well. He was elected European Internet users representative in May 2007 and has been the ALAC (At-Large Advisory Committee) vice-chair since 2008.
A citizen of France, Sébastien has served since June 2004 as the founding CEO of BBS International Consulting, a consultancy specializing in information systems with particular emphasis on Internet technologies.
Sébastien was selected by the At-Large to serve on the Board. His first term starts following the Annual General Meeting in Cartagena Colombia on 10 December 2010 and expires six months after this meeting. He has also been selected to fill a full term, which will start six months after the end of the 2010 Annual General Meeting and will expire six months after at the Annual General Meeting in 2013.
Olivier MJ Crépin-Leblond, Chair of the ALAC
Dr. Olivier M.J. Crépin-Leblond is a French national who has been an Internet user since 1988. He received a B.Eng. Honours degree in Computer Systems and Electronics from King's College, London, UK, in 1990, a Ph.D. in Digital Communications from Imperial College, London, UK, in 1997, and a Specialized Masters Degree in Competitive Intelligence and Knowledge Management from SKEMA Business School (ESC Lille & CERAM) in Nice-Sophia Antipolis, France, in 2007.
Having founded Global Information Highway Ltd in 1995, he took part in many Internet projects, several of which enabled Internet connectivity in developing countries.
Whilst attending all ICANN conferences in person since the Paris (June 2008) meeting, he has taken a keen interest in supporting ICANN's At-Large community. He was selected to be on the 2010 ICANN Nominating Committee (NomCom) and was Secretary of ICANN's European At-Large Organisation (EURALO) from June 2010 until March 2011.
He was selected as Chairman of ICANN's At-Large Advisory Committee (ALAC), at ICANN's Cartagena, Colombia meeting in December 2010, a yearly term renewed at ICANN's Annual General Meeting in Dakar, Senegal in October 2011 and again in Toronto in October 2012 (this time for a 2 year term). Through serving the At-Large Community, he has gained a unique practical experience in an operational multi-stakeholder policy-making environment, finding and building consensus at grassroots level.
In March 2013 he was selected to sit on the second ICANN Accountability and Transparency Review Team (ATRT2).
He was recently invited to speak in the United Kingdom, Sweden (EuroDIG Stockholm), several universities in Southern India (on matters of IPv6, Internet History and Core Values) as well as teaching at the Summer School on Internet Governance in Meissen, Germany (Multi-stakeholder Governance) and taking part in the third Ukrainian IGF in Kyiv on behalf of the Council of Europe and the Internet Governance Forum (IGF) in November 2012.
In December 2012 he was part of the United Kingdom delegation to the World Conference on International Telecommunications (WCIT-12) in Dubai.
Whilst Chairman of the English Chapter of the Internet Society (ISOC) since March 2012, he is also a Member of the Institution of Engineering and Technology (IET), a Senior Member of the Institute of Electrical and Electronics Engineers (IEEE) and a Network Startup Resource Center (NSRC) affiliate since the early nineties.
Full details available on: http://www.gih.com/ocl.html
Fatimata Seye Sylla, Chair of AFRALO
Madam Fatimata Seye Sylla holds a Master of Science from the Media Lab at Massachusetts Institute of Technology (MIT), a DUT in Computer Science from IUT du Havre in France, a Certificate of Business Administration (CGE) from CESAG, Dakar.
After 10 years of experience in the Government of Senegal, she has run the USAID "Digital Freedom Initiative" (DFI) program to bridge the digital divide in Senegal. She has capitalized a great deal of leadership activities as Director of private companies in the field of information and communication technologies (ICT) and worked as an expert consultant for several foreign and international organizations such as MIT, UNESCO / BREDA, UN / ECA, ITU, IDRC, UNDP, AAWORD, Francophonie, UN/DAW, ENDA, USAID, etc.
Ms. Seye Sylla is author of several publications and studies in the fields of ICT and education, gender and development, ICT and democracy, Internet governance, mobile banking. She is a founding member of many ICT related associations (ISOC, OSIRIS, FOSSFA ACSIS, Régentic, Bokk Jang), and was nominated member of the At Large Advisory Committee of Internet Corporation for Assigning Names and Numbers (ICANN / ALAC) from November 2007 to November 2009 and Chair of ALAC / AFRALO since then.
Since October 2008, Fatimata Seye Sylla is the National ICT Coordinator, the objective of the program is to connect the internet to Senegalese middle schools within the USAID-EDB (basic education) project that supports access to quality education.
Tijani Ben Jemaa, Vice-Chair of AFRALO
Tijani Ben Jemaa is a telecommunication engineer.
He used to be station manager in the TV broadcasting station in Sfax (Tunisia).
He spent 15 years on secondment at ARABSAT, a pan-Arab organization of satellite communication where he served as control engineer.
Tijani used to be an active participant in the World Summit on Information Society (WSIS) from the first Procom of the Geneva phase till the closure of the second phase as a Civil Society activist.
He was a member of the WSIS Civil Society Bureau representing the "Science and Technology" Family.
He participated in some meetings of the WSIS Action lines' facilitation.
He also participated in 5 of the 7 editions of the Internet Governance Forum (Athens, Sharam El Sheikh, Vilnius, Nairobi and Baku).
He was speaker in a workshop in Sharam El Sheikh, and organized workshops (both feeders to main sessions) in Vilnius and Baku.
He is member of the African Civil Society for the Information Society (ACSIS) since its inception and member of its cabinet as coordinator of the North African sub-region since 2009.
He had been appointed in 2007 Executive Director of the Mediterranean Federation of Internet Associations.
His first ICANN meeting was in Paris (June 2008).
In March 2009, he became member of the African Regional At-Large Organization (AFRALO)
After the 2009 AGM, he has been elected Vice Chair of AFRALO and then became member of ALAC and its Executive Committee starting December 2010.
Tijani is a Tunisian national and lives in Tunis (Tunisia).
Aziz Hilali, Secretariat of AFRALO
Dr. Abdelaziz Hilali is a Professor at the Moroccan Telecommunications graduate institution (INPT) (www.inpt.ac.ma). He graduated from the Joseph Fourier University of Grenoble, where he earned a PhD in Applied Mathematics and Computer Science in 1987.
Following his graduation, he has published a number of scientific papers and given a substantial number of oral presentations at international meetings.
Dr. Hilali has been a member of the ministerial commission in charge of the launching of the program of the master's in Telecommunications and ICT engineering. He was in charge of student academic affairs, and a deputy director of the Master training programs and he is currently director of Corporate Relations within the same institution.
Dr. Hilali is one of the principal founding members of the ISOC Morocco (www.misoc.org). He is a Founder of the Moroccan IPv6Task Force. He is currently Secretary de The African Regional At-Large Organization (AFRALO), president elect of the Mediterranean Federation of Internet Associations (Tunis 2007) (www.fmai.org) and president of ISOC Morocco.
During these last years, Dr Hilali has been the initiator and main organizer of a large number of seminars and workshops for the benefit of a large array and categories of people interested in Internet in Morocco.